We are determined to give you the very best at the 2022 Adventure Bike Rider Festival. From the five-star venue to the incredible entertainment, the posh toilets to the first class facilities, and let's not forget the £3 pints!
This would be difficult to achieve without the support of our partners, so let's meet them.
BRIDGESTONE
The ABR festival continues to grow year on year and we are delighted to be in attendance for the 4th year running.  The Adventure Bike market is probably the fastest growing sector, not just in the UK, but across the globe.  Its therefore of huge importance we showcase our products to the ADV bike market. For 2022 we have added a new product to that sector in the form of the AT41; an off road looking tyre that's fits right in with the characteristically aggressive look of ADV bikes, but aimed at the rider who wants that look with unrivalled road performance along with wet weather performance that's sure to be at the top of the class.
We will also have the rest of our Adventure bike range on show too, along with the award winning T32 Sports Touring tyre.
Look out for some tyre promotions in 2022 and be sure not to miss out on some great gifts.
SENA
Sena has been paving the way for motorcycle communication for nearly a decade. Our passion for adventure and obsession with perfection fuels us and translates through our products to inspire our customers to challenge the confines of their ordinary routines and pursue their own adventures. The Adventure Bike Rider Festival is matching our message perfectly and we´re excited to finally be on site. To be able to chat with you and enjoy the atmosphere: sounds like a perfect event.
Experience all new Sena products at the Adventure Bike Rider Festivals Try and Ride area or learn more about our full product line at sena.com
REV'IT!
REV'IT! Sport International designs and manufactures fashionable motorcycle gear for aficionados – functional clothing of the highest quality.
At REV'IT! we want to inspire people to ride, in everything we do. We want to inspire by making well designed and innovative products, allowing people to ride better, safer while looking good.
After being partner of the event for 2 years, we are very happy to continue our partnership with ABR Festival. For us this is our favuorite event of the year because the organization, visitors and general atmosphere are really great.
We are looking forward to the 2022 edition very much because we will finally be able show you the latest and greatest from our extensive 2022 Adventure collection. See you there!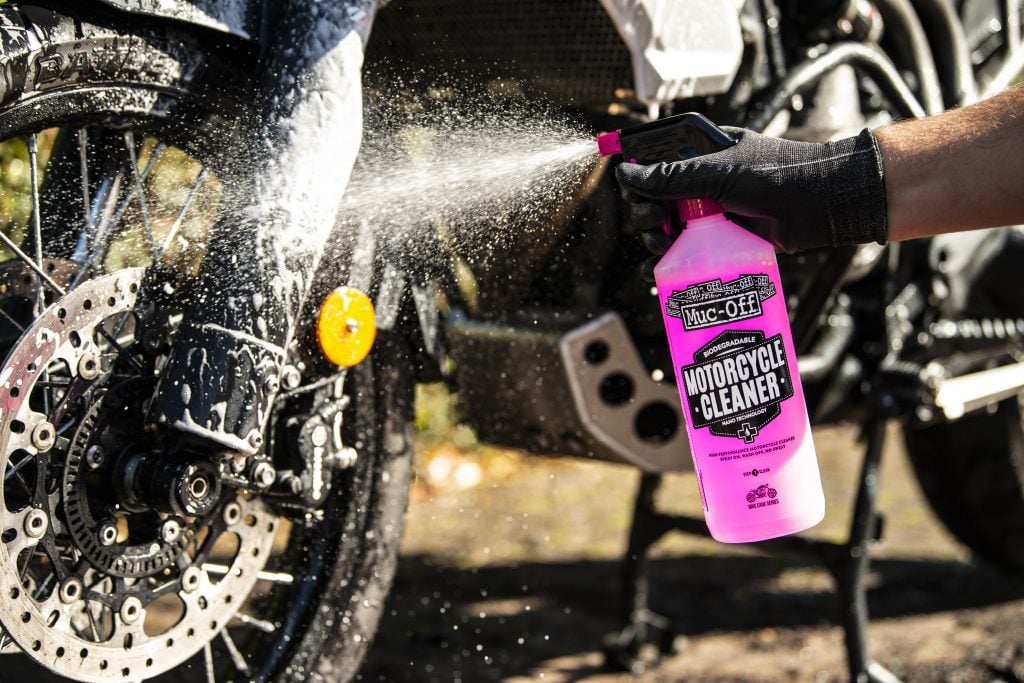 MUC-OFF
At Muc-Off, we're really into being active. Whether it's on a mountain, trail or at the skate park, we just love to be outside and going big. We're obsessed with making the most innovative care and performance products around, so you and your toys can keep running smoothly and looking box fresh.
We are stoked to be continuing our partnership with Adventure Bike Rider Festival in 2022. We'll be on hand throughout the weekend to help keep both your bikes and lids looking fresh with our free bike wash and free helmet valet services!
Pop by our stand to chat to our experienced team, pick up some swag and get your gear freshened up.
RUROC
British-born Ruroc are one of the fastest growing brands in the motorcycle industry, leading the way in innovative protective gear. Showcasing at Adventure Bike Rider Festival for just the second time, they will be featuring their full DOT and ECE approved Atlas carbon fibre helmet range, as well as their motorcycle apparel brand, Enginehawk.
Launched in Spring 2021, Enginehawk was developed in collaboration with their community of riders, created from the desire to ride in CE approved gear that looks as epic as their helmet counterparts, combined with fashionable-yet-functional fits. The ABR Festival will also be one of the first opportunities to see the new Enginehawk Women's Jackets as well as the new Men's range!
Not only will you have the chance to speak to the team behind the products and try on the range of helmets, Ruroc and Enginehawk will also be offering exclusive show discounts on helmets, jackets and accessories.
Halvarssons and Lindstrands
Halvarssons and Lindstrands will be bringing their exciting new 2022 collection to ABR festival! In Halvarssons we will be showcasing our ABR Magazine recommended Mora and Malung suit, the perfect suit for long distance touring in all climates. In our new for 2022 collection, we will also be launching a new era in technology form Halvarssons.  Stretch laminates for both Ladies and Men made with our safety in comfort concept giving you the most comfortable ride without sacrificing safety.
In Lindstrands we have a new adventure suit Myrvik and Mytorp, a lightweight 3-layer suit reinforced with super fabric and Hi-Art to give the ultimate in safety as well as being perfect for a high range of temperatures. The Sunne suit is the laminate brother of the Myrvik and Mytorp. In a stunning new Grey colour the Sunne is ready for anything the weather and the road can throw at it!
As well as these headline products, Ed Miles and Mick Wynn will be on hand to give advice on the full collection including gloves, base layers and protectors.
DATATAG
Datatag; protecting your two wheeled adventures for 30 years
Datatag have been helping the UK's motorcyclists protect their bikes from the risk of being stolen for a generation. In that time, over one million motorcycles have been fitted with Datatag's layered security technology, providing a powerful deterrent to would be thieves.
During this year's ABR festival, we will be hosting a regular security Masterclass along with our partners BikeTrac and ABUS to talk about the ultimate security protocol to ensure that you and your bike never fall victim to theft.
We call this new strategy the SECURITY TRINITY; a simple, robust and affordable security routine to make sure that wherever your adventure takes you, no matter where you need to park your bike, you can be confident that spectre of theft won't be paying you a visit. To find out more about the new SECURITY TRINITY, make sure that you come and spend half an hour at our the Security Masterclass at this year's show.
PHOENIX TRAILS
Phoenix Trails is run by Phoenix Motorcycle Training – the UK's largest motorcycle training provider. We have two bases offering access to fantastic approved routes spanning 300 square-miles of the Salisbury Plain and from our Kent base, almost unlimited routes in the Garden of England.
Run by professional, dedicated instructors, Phoenix Trails builds on the success of the organisation's existing training ethos, aimed at encouraging motorcyclists to get more out of their riding and to develop valuable, fun new skills. Both centres provides riders with motorcycles, professional instruction and all the necessary gear.
Specialising in all unsealed and loose surface riding environments we cater for complete novices to experts seeking tougher challenges. Phoenix Trails offer small-group accompanied day-rides, with a high ratio of instructors to riders. You can find out more details at phoenix-trails.com
Alpinestars
Alpinestars, since its inception in 1963, is now the world-leading manufacturer of professional racing products, motorcycling airbag protection, high-performance apparel and technical footwear.
Having introduced the motocross boot in the early years of the sport, Alpinestars began a legacy of form and function that shaped the roots of the company. Since then, they have expanded to both motorsports and action sports, offering proven and tested technical apparel to world-class athletes from all over the globe.
They understand that the best design and research is achieved under extreme conditions. Their involvement in Formula 1, NASCAR, AMA and World Motocross and MotoGP has led to the creation of the most advanced technical equipment for the world racing's top athletes. Alpinestars has built a reputation of innovation and prestige, and is synonymous with quality, protection, technology and style. ALPINESTARS PROTECTS.
Harley-DAVIDSON
Harley-Davidson started out of a small shed in Milwaukee, Wisconsin in 1903. Their innovation and imagination for what was possible on two wheels sparked a transportation revolution that would make Harley-Davidson one of the most desirable motorcycle brands in the world.
Today, they continue to define motorcycle culture and lifestyle, evoking soul-stirring emotion reflected in every product and experience they deliver.
Their mission is to build more than just machines, but to stand for the timeless pursuit of adventure.
YAMAHA
All of Yamaha's products have been designed and produced by people who truly enjoy what they do, and their goal is to provide you with the very best experience possible. Whether you want to RACE faster, to FEEL the passion of riding, or to find the best solution to MOVE smarter, they'll be a Yamaha product to give you that experience.
This year, Yamaha will be taking a bigger presence than ever at the ABR Festival through the Ténéré Speaker Stage and Ténéré Village. The Ténéré Speaker Stage will feature a full entertainment schedule from inspirational headline speakers to charming acoustic music sets. They will also unveil the highly anticipated Ténéré 00 World Raid, alongside a 'History of Ténéré' exhibition, showcasing iconic Ténéré models from over the decades.
Rev Your Heart and see that sparkle in your eyes.
DANCO
Danco is a privately owned and operated family business and are an industry leading provider of marquees, pavilions & temporary structures with a distinguished portfolio of clients.
Danco owns and manages an enormous selection of temporary structure products and with over 300,000 sqm of material, has enough to cover over 75 football pitches at any given time! With complete control of the entire process from the initial order, to transport and installation we can guarantee delivery of a high quality product on time, backed up by exceptional customer service throughout the experience.
For over 40 years we have supplied structures at major events. We are pleased to be working with the ABR Festival again this year as it continues to grow into a major festival in the events calendar.
Stay up to date with the ABR Festival
Be the first to know the latest news, new attractions and ticket offers