The Campfire Stage brings the best adventurers, RTW travellers, motorcycle authors, and the riders you follow on social media together in one place for informal, insightful and exciting talks! What would you ask them given the chance? You'd better get your thinking cap on, because at the ABR Festival you can do just that. So pull up a chair, kick back, and join in the chat hosted by Simon and Lisa Thomas of 2Ride The World.
Simon and Lisa Thomas
Join Simon and Lisa Thomas, aka 2 Ride the World, on the Campfire Stage as they chat to some of the most recognisable faces in the adventure biking world.
They'll be getting the inside scoop from the famous faces, authors and travellers who'll be hanging out in the Campfire tent each day.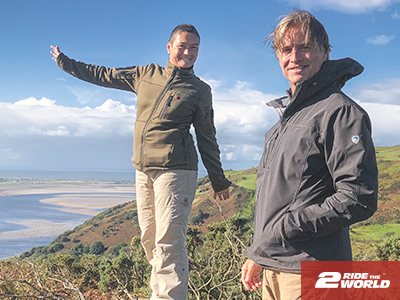 Vanessa Ruck
In 2014 Vanessa, aka The Girl on a Bike, was hit by a red-light-jumping car while cycling and her life changed. She's been on a seven-year recovery including seven surgeries and two reconstructed body parts but is now taking part in some of the toughest motorcycling events in the world.
During her journey, she discovered motorcycles and the improvements they can make to both mental and physical health. Vanessa is known for sharing her journey with the world. She's real and honest, showing the rough and the tough days too. What will you ask her?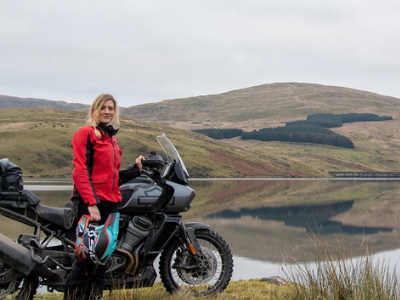 The Missenden Flyer
Andy is a regular sort of chap who loves to ride motorbikes. He's also managed to grow one of the UK's most viewed motorcycle YouTube channels, called The Missenden Flyer. Working from his garage and the back lanes of Buckinghamshire and beyond, he has now amassed some 70 million views covering his adventures.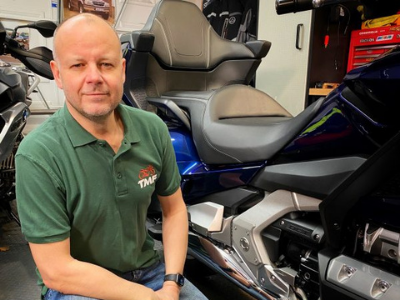 The ABR Garage
The ABR Garage team will be leaving the comfort of the studio behind for a live show at the ABR Festival 2022. Bryn and James will be joined by Garage regulars to discuss all things adventure biking. The boys will discuss the pros and cons of the bikes they've been test riding lately and provide insights into the making of Adventure Bike Rider magazine.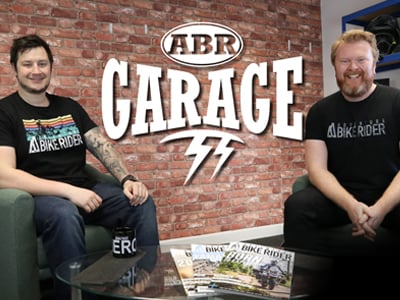 RICHYVIDA
My name is Rich. I own motorcycle touring/entertainment company Wildbad Touring and also the RichyVida YouTube channel.
I learned to ride when I was around 8yrs old, and my first bike was a Honda Cub70, before moving onto motocross bikes.. I cut my teeth in the quarries and fields of my home town in Derbyshire.
Since then, I have ridden in the midnight sun of Norway, drank beer on the beach in Dubrovnik, and – being a semi-professional musician – have played on stage in Nashville, Tennessee, all on my beloved Honda VFR800.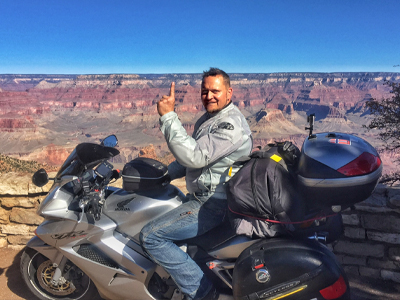 TeapotONE
From 2012-2014 I rode a Suzuki GSX-R1000 around the world, covering over 74,000 miles through 54 countries, in 442 days, solo and unsupported. I did this to keep a promise I made my mum before she lost her battle with cancer, and it changed my life.
I'm a former Diplomatic Protection officer with the met police who has now gone full time at youtube and do my best to live by my mantra of, "LIVE Your Life!" I now travel everywhere and anywhere, testing bikes and kit, finding out about people and places and sharing this with my own community.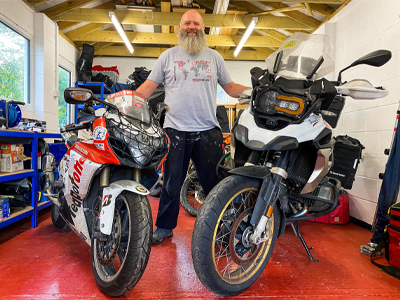 chris scott
Since 1982 Chris Scott has undertaken over fifty expeditions or tours through the Sahara. He coined the term 'adventure motorcycling' and is the author of the widely acclaimed Adventure Motorcycling Handbook, now in it's eighth edition. It's been called the Bible for planning a two-wheeled overland adventure.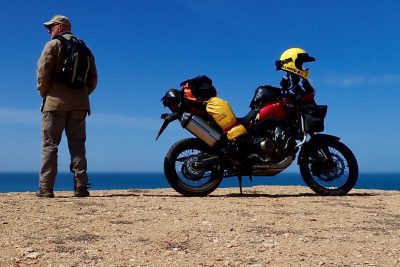 Tiffany Coates
Tiffany Coates is the world's foremost female motorcycle adventurer having ridden over 300,000 miles, crossing every continent, some of them several times.
She's travelled just about everywhere and classes her more remote exploits as her favourite journeys, amongst them Timbuctoo, Outer Mongolia, Tibet, Borneo and Madagascar. Tiffany rides a 1992 BMW R 80 GS.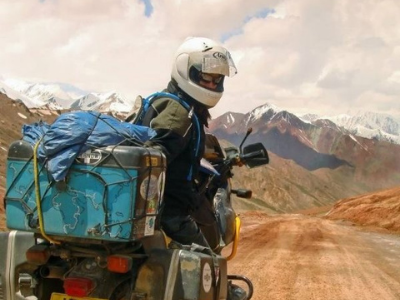 Spencer Conway
Spencer was born in Kenya and raised in Eswatini. He taught at the University of Seychelles for four years before hanging up his suit to become an adventure motorcyclist.
He's travelled and worked through 134 countries, and his aim is to circumnavigate every continent, including crossing the Darien Gap.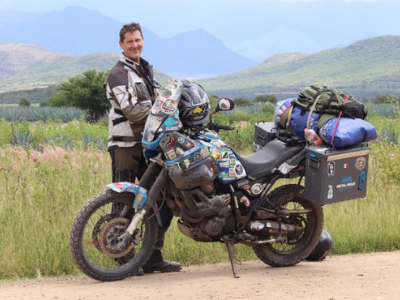 Kane Avellano
Kane Avellano holds the Guinness World Record for being the youngest person to complete the round the world trip both solo and unsupported, on his Triumph Bonneville.
On the way he faced monsoons in India, blistering deserts in Australia and freezing weather in Europe.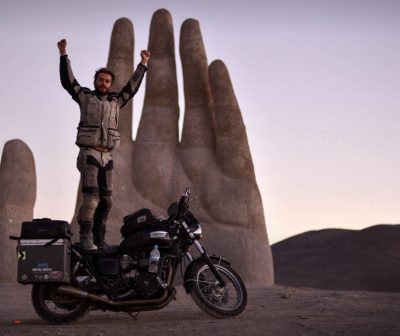 Matt Bishop and Reece Gilkes
Matt Bishop and Reece Gilkes (AKA The Sidecar Guys) are the first people to ever circumnavigate the globe on a scooter with a sidecar.
They took their plucky Honda SH300i scooter and homemade sidecar 34,000 miles on a Guinness World Record breaking trip.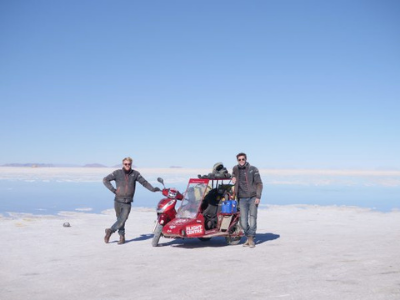 Ben King
At the age of 17, Ben decided to set off and explore the world on a motorcycle after miraculously surviving a serious car crash in London. He's now spent the past seven years exploring the globe across Asia, Central and South America, Europe, and North Africa. Most recently he rode overland from London to China via Iran and Pakistan, a journey that took two years to complete. Ben still has a long way to go!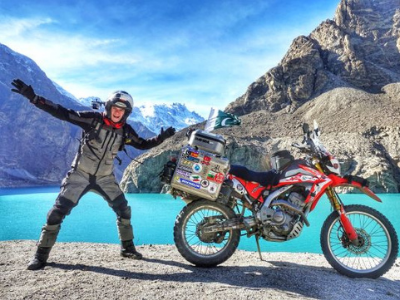 Henry Crew
In 2018, at the age of 22, Henry embarked on a 52,500 mile journey to become the youngest person to circumnavigate the world on a motorcycle.
During that life-changing trip through 35 countries, he raised over £11,000 for the Movember Foundation to support its work for Men's Mental Health.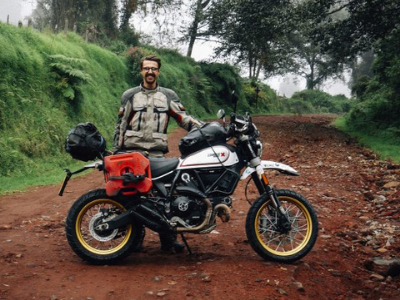 Sam Manicom
With just two months' experience on a bike, Sam set off to ride the length of Africa. In spite of being shot at, jailed and fracturing 17 bones in an accident, the motorcycle travel bug bit bit him and has never let go.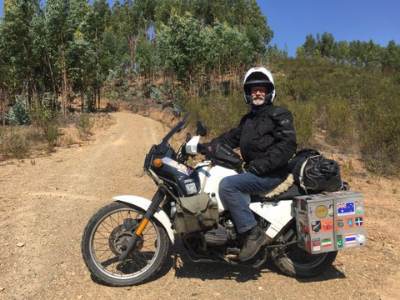 Elspeth Beard
Elspeth Beard is a motorcyclist and award-winning architect. In 1982, at the age of just 23, she left London and set off on a 35,000 mile solo adventure around the world on her 1974 BMW R60/6 and became one of the first women to do so.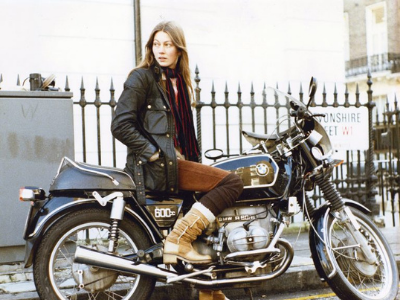 Jack Groves
In 2019, 21-year-old Jack Groves mounted a second-hand Royal Enfield Himalayan and commenced a journey that would make him the youngest person to circumnavigate the world by motorcycle (just!). His 35,000-mile expedition took him across 30 countries through Central Asia, China and Australia, and was initially planned to last a year, but eventually took just under two, due to a 255-day enforced halt in Peru because of COVID-19.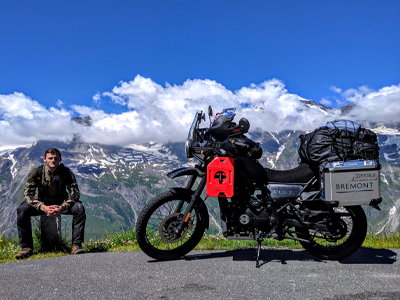 Austin Vince
Creator of the now iconic Mondo Enduro motorcycling film, enigmatic adventurer, Austin Vince is a legend of the motorcycling world. He's ridden the Road of Bones and crossed the Zilov Gap. Not many people can say they've done that.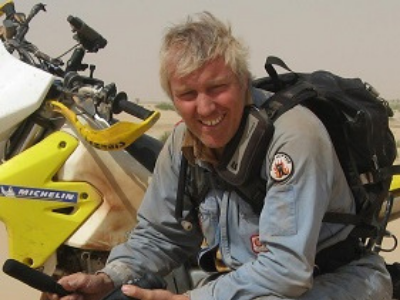 Stay up to date with the ABR Festival
Be the first to know the latest news, new attractions and ticket offers