There aren't many places in the UK where you can ride 20km of continuous off-road trails, but at the Adventure Bike Rider Festival you can. Whether you're an off-road veteran or are curious about simply giving it a go, there's no better place for you to be than at the ABR Festival.
The Adventure Trail winds its way for 20km through the magnificent grounds of the Ragley Hall Estate, and we've designed it specifically with you in mind. That means it's big bike-friendly and there are sections appropriate for all riding levels, from beginner to advanced.
Please be aware: ABR events are non competitive and leisure riding only. Only road legal bikes and riders will be allowed on the Trail and speed limits apply. For 2023, Enduro bikes will not have access to the main Adventure Trail. For the sake of clarity, when we say enduro bikes, we're referring to motorcycles which leave the factory without pillion pegs. So, a Honda CRF250L can ride the Adventure Trail, a KTM 250 EXC cannot.
If you bought your ABR Festival ticket before the enduro bike announcement was made (15/7/22) and no longer wish to attend, you can claim a refund on your ticket if you submit a request by 30 September 2022.
ride 20km of purpose-built big bike-friendly trails
The carefully crafted route snakes its way over vast, open grassland, through tight wooded sections, and there's even a series of craters for you to play in. While there will be the occasional road crossing, the Adventure Trail is the perfect way to experience off-road riding on your big adventure bike in a friendly, non-competitive environment.
And, because the emphasis is firmly on having fun and experiencing the joys of adventure biking, there will be strictly no racing and a 30mph speed limit in place. To ride the Adventure Trail, make sure you add a 'Trail Access Pass' to your checkout when you get to the ticket page.
For 2023, Enduro bikes will not be permitted on the main Adventure Trail.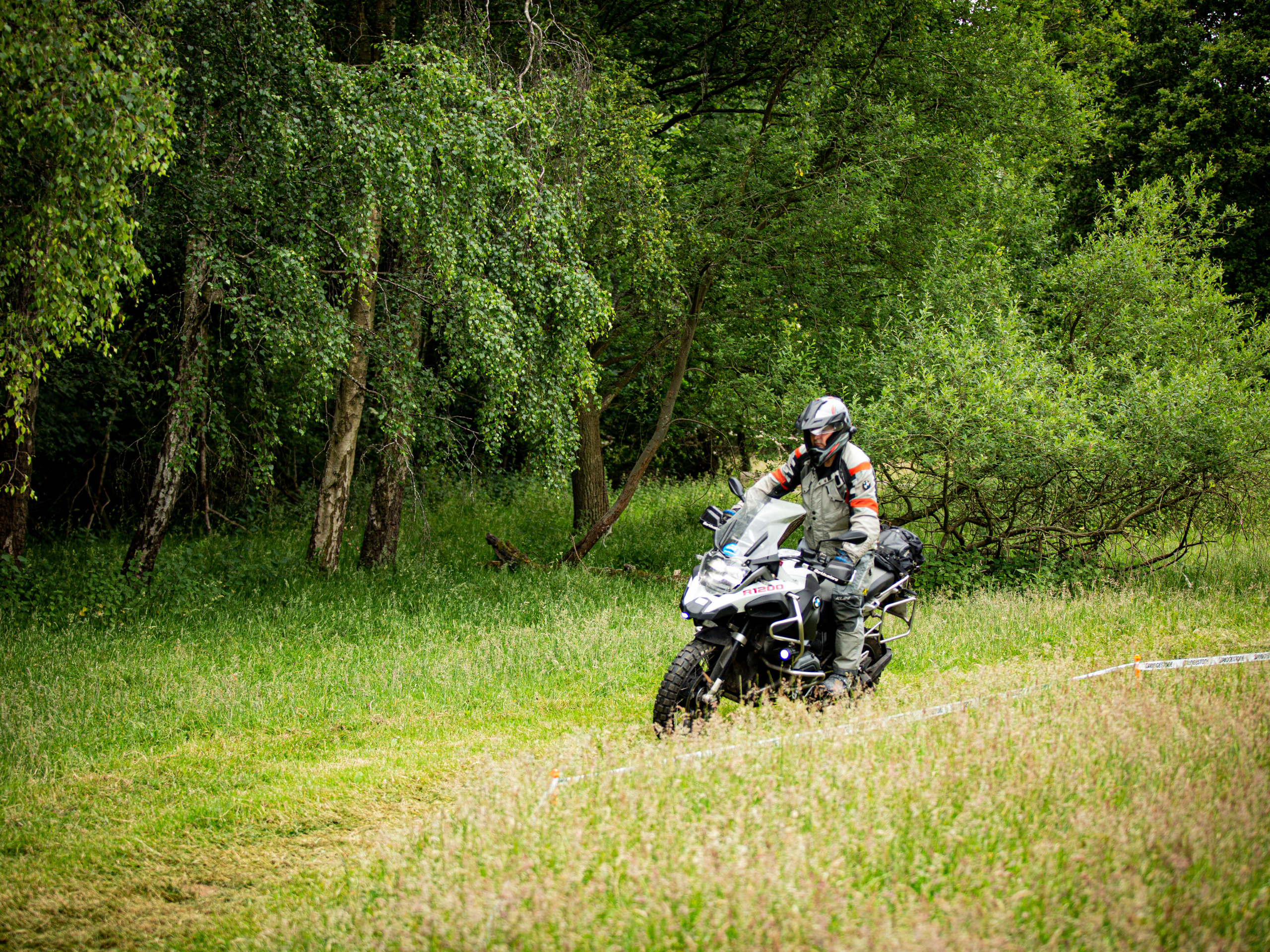 the beginner's loop
If you're a complete beginner to riding off road or you'd like somewhere to build your confidence before riding the main trail, the the Beginner's Loop is for you.
Think of it like a green slope at a ski resort; there are no egos, it's easy to ride, and it's a place where you can take your time and get a taste for riding in the dirt.
The gentle trail will take you on a short loop over grass and besides woodland and will be open exclusively to beginners with rules in place to prevent 'intimidating' riding. Access to the Beginner's Loop is included in a 'Trail Access Pass' ticket.
Better yet, to really get you off on the right foot, you can join Patsy Quick and her team at Desert Rose Racing for a trail briefing. In these morning sessions, Patsy (who has over 20 years' of off-road riding experience, including four Dakars, under her belt) will go over the basics of off-roading to make sure you can hit the trail with confidence.
She will cover body positioning, bike handling, braking, and cornering techniques while giving valuable insights into the specific conditions of the trail on that day.
the adventure park
If you fancy tackling a tougher riding challenge, then you'll want to get yourself over to the Adventure Park. Here, you'll find a series of climbs, descents, water crossings, and more technical terrain that will put your slow-speed manoeuvring skills to the test. Access to the Adventure Park is included with Trail Access tickets.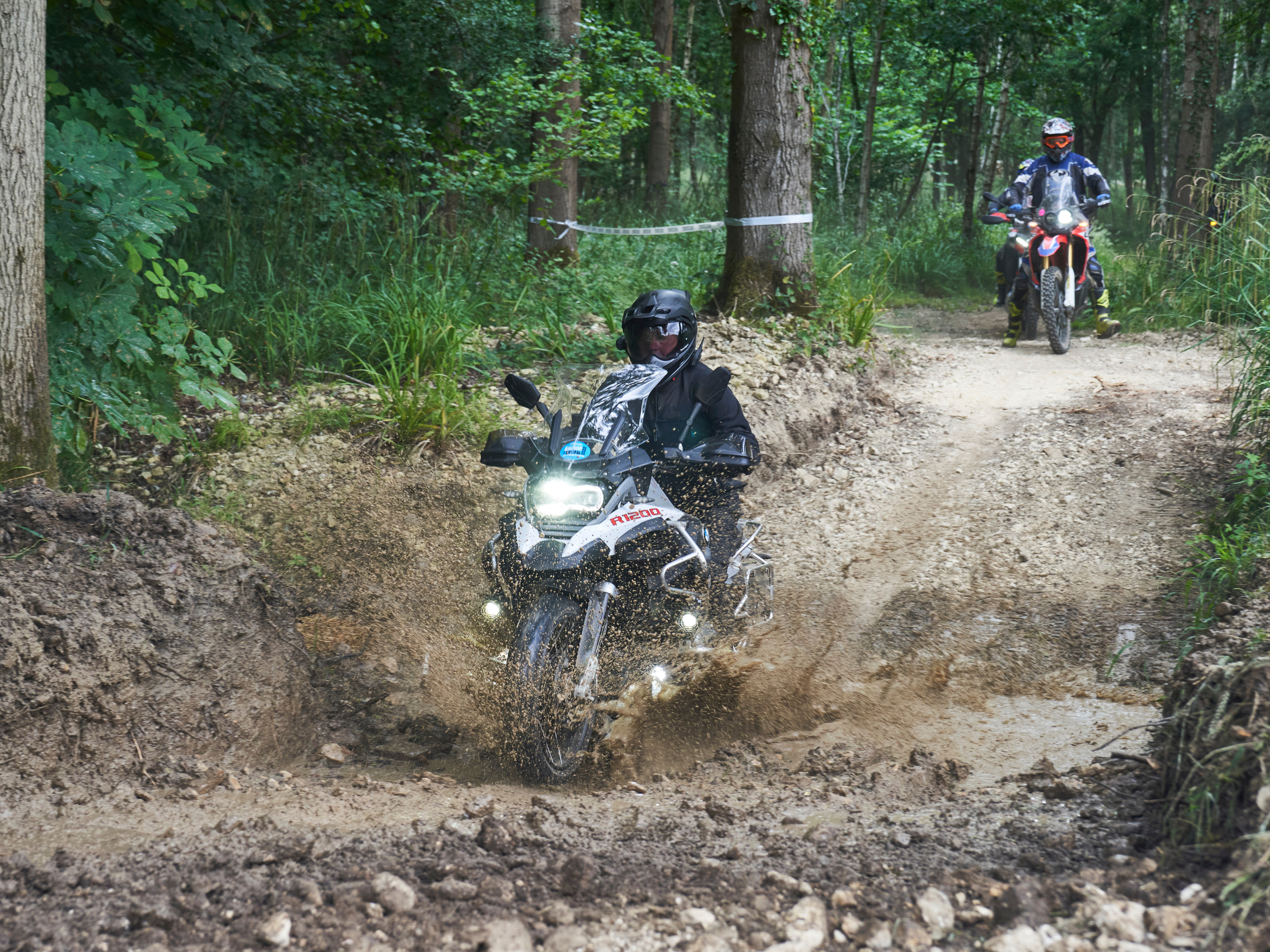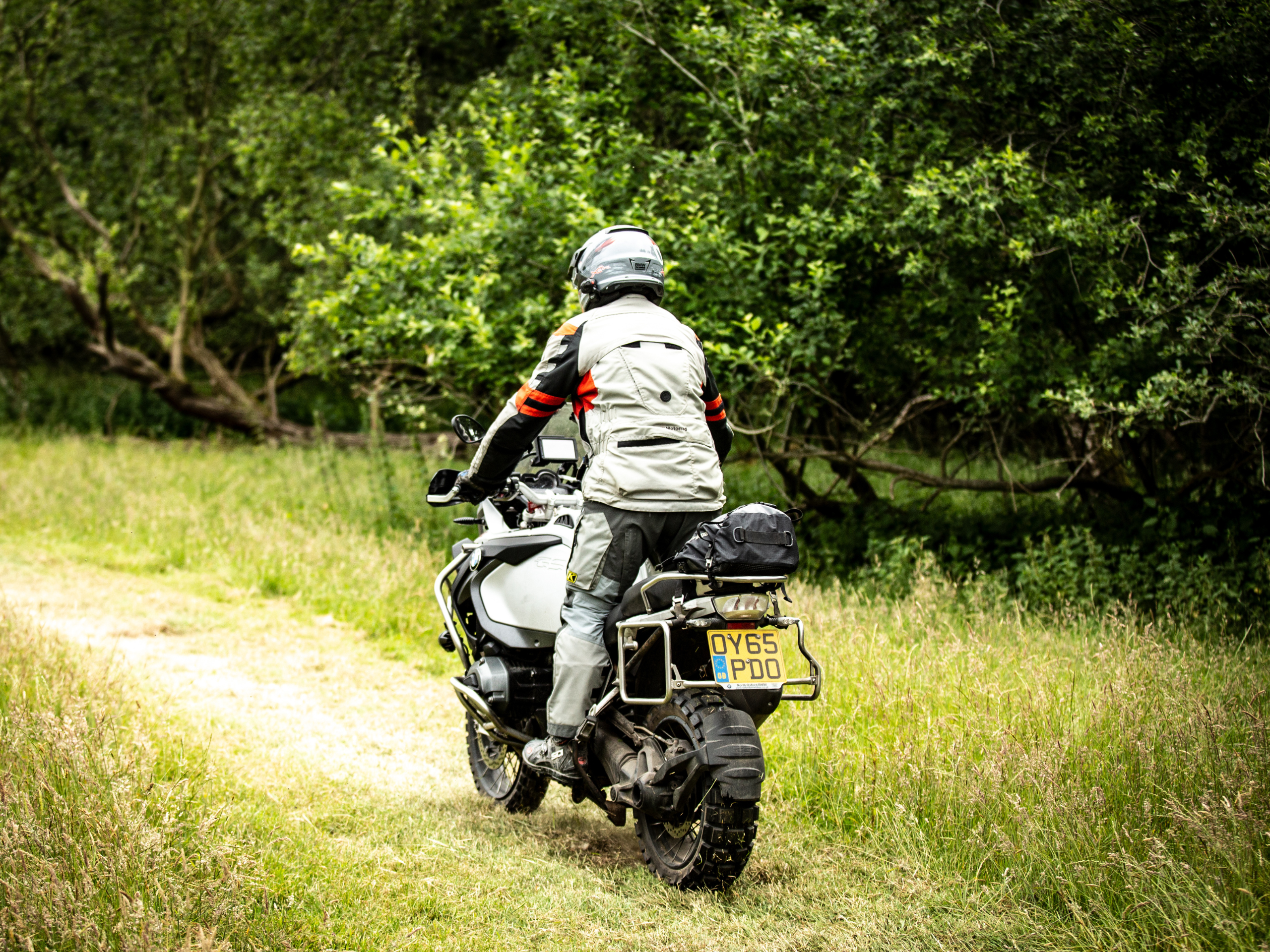 Big Bike Friendly
The Adventure Trail has been specifically designed with adventure bikes in mind; rider safety, wellbeing and enjoyment is paramount.
Due to overwhelming feedback from previous events, and for reasons including health, safety and the leisure riding ethos of the ABR Festival, enduro bikes will no longer be permitted on the trail in 2023.
If you are unable to bring an adventure bike to use on the trail, fear not. All riders and bikes are still very much welcome at the festival. All enduro bikes will still be able to enjoy the greenlane ride outs, plus access all the other activities, attractions and music at the festival.
Adventure Trail Riding Rules
The first two rules of the Adventure Trail are to stay safe and have a great time. In order for us all to do so, there are some housekeeping rules we all need to follow.
There is a 30mph speed limit on open parts of the trail. The trail is for leisure riding only and there is strictly no racing. Always ride at an appropriate and safe speed.
Enduro bikes will not be permitted on the Adventure Trail. For the sake of clarity, when we say enduro bikes, we're referring to motorcycles which leave the factory without pillion pegs. So, a Honda CRF250L can ride the Adventure Trail, a KTM 250 EXC cannot.
The trail is one-way and a pedestrian and spectator free zone.
Please read and sign the ABR 2023 Trail Disclaimer and Safety Briefing at event check-in if you will be riding the Adventure Trail.
On signing of the safety briefing and disclaimer a luminous helmet sticker will be given to you. Please display this on the front of your helmet. No sticker – no entry to the Adventure Trail.
Course Marshals and Security staff are present on the trail for assistance and enforce safe riding, they are unable to give riding advice, instruction or tuition.
Only adventure bikes are permitted on the trail. Motorcycles which leave the factory without

pillion

pegs

fitted as standard will not be permitted access to the trail.
Strictly no unregistered or non-road legal bikes or riders are allowed on the trail. Fully road legal motorbikes and riders only.
Motorcycle riding is dangerous. Please wear appropriate motorcycle footwear and protective clothing while riding on the trail.
Wet grass and mud is slippery, we strongly recommend off-road tyres.
Panniers must be removed to ride the trail. They can be left at the marquee at the start of the trail or at ABR control at the information desk. Panniers are left at your own risk.
Single riders only. No pillions are allowed on the trail.
If you find yourself out of your comfort zone and ability, please alert the nearest trail marshal for assistance.
If your bike breaks down, alert the nearest marshal or call 01789 450024 for Trail Bike Rescue. Wait safely off the trail, keeping clear of motorcycles and riders. Trail Bike Rescue will come and collect you and your bike. At peak times, there can be a wait, please understand we'll be working hard to get to everyone as quickly as possible.
If you suffer an injury, alert the nearest marshal or phone 07853163186 for the ABR Festival medic team.
If you find a fallen bike and rider and they are unable to continue:
– Make sure it's safe for you to stop and help.
– Stop the next available rider and ask them to safely alert all approaching riders to the danger.
– Alert the nearest marshal on the phone at 07835 163 186 for medical assistance or 01789 450 024 for Trail Bike Rescue.
The trail has four public road crossings, all are signed appropriately and staffed by security personal. Please be extra careful at road crossings.
The trail has 'expert only' alternative routes which are clearly signed with a red X. Please do not take the expert option unless you have the necessary off-road experience and confidence.
Please use the Beginner Loop before riding the trail if you have little or no off road riding experience. Only venture onto the main trail if confident and competent to do so.
Any rider not respecting the trail rules and the safety of fellow riders runs the risk of being banned by the trail marshals or security. Marshal decisions are final and no negotiations will be entered into. Abusive behaviour towards marshals will not be tolerated.
It is a huge privilege to be able to ride at the Ragley Estate, please respect the environment by not dropping any litter and by keeping to the designated route.
Finally, thank you for joining us at the ABR Festival this year, we're very much looking forward to seeing you there!
Stay up to date with the ABR Festival
Be the first to know about the latest festival news and attractions